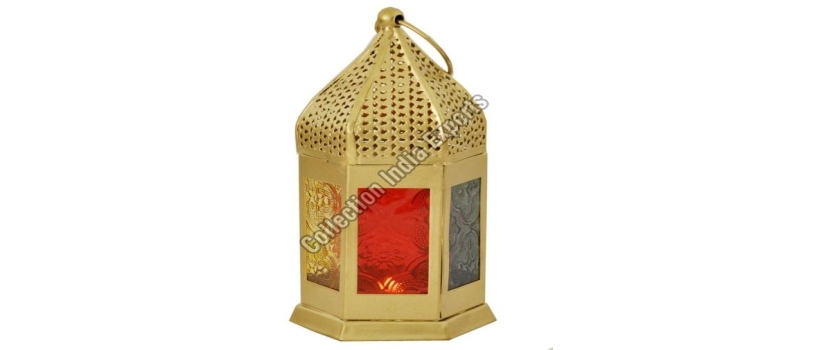 Would you like to introduce to your home or exterior some mysterious and exotic touch? Moroccan lanterns may just be what you want. Moroccan lanterns supplied by the Moroccan T-Light lantern exporter have a rich exotic background with a mixture of African, European, Persian and Indian cultures built to fuse together. It irradiates a rustic sensation, but it brings a sense of otherness. The beauty can be truly appreciated only if illuminated in a darkened room. Light streams through complex patterns of metal cut and coloured glass, creating a lovely, "starry" canopy.
History
The origins of Morocco's lantern-style are derived from Moorish and Moroccan architecture. Over the past, Morocco received cultural input from Arab, Persian, European & Sub-Saharan Africa and has served as a cultural conduit for the union due to its strategic position between Africa, Europe and Asia. This fusion is perfectly reflected in the special lamp design.
Moroccan lanterns, along with other wonders of architecture, were brought to India by the Mughal emperors. In the city of Moradabad, founded in 1625 AD by Emperor Shah Jahan, Moroccan lamps found their home in India. With their popular brass handicraft industry, Moradabad also known as Pital Nagri (Brass City), helped the art flourish in India with many Moroccan T-Light lantern suppliers in Moradabad.
Materials Used
Timber and rustic stem or iron-woven metal work form the typical Moroccan hanging lights (lanterns). The grid can be very sophisticated and even impressive. Traditionally, these lanterns are designed to carry candles and tea lights. There are two of Morocco's most common colours: blue and amber, although most coloured lanterns are beautifully paired with exuberant colours green, red, and yellow as well as orange.
Types Of Moroccan Lanterns:
In every Morocco courtyard and greenhouse, Garden Lanterns will enhance the atmosphere of your evening. The lanterns that operate effectively with minimal maintenance are included in this category.
These lamps supplied by the wholesale Moroccan T-Light lantern supplier add an authentic taste of Morocco and a strong selection of tabletop lamps. These lamps will dramatically increase your decor's exotic quotient, regardless of how you use the lantern. You may use them on the restaurant table as a focal point for complementing lateral table parts.
Hanging lamps are one of authentic Morocco's most comprehensive and diverse assemblies. The suppliers of Moroccan hanging lamps sell a wealth of lamps. With joy like rays all over your bed, every light has its magical charm. You must be cautious when selecting the right kind of suspended light because it's easy to find many bad imitations of Moroccan lanterns.
The Moroccan candle lantern is a perfect way of building the mystical and enchanting ambience. The lanterns of these candles are available in many designs in bright colours. They are available in iron and copper in coloured glass. Candle lantern providers provide an exclusive selection of hand-selected lanterns that only provide the finest and authentic experience in Morocco.
Moroccan Lamps – New trend in Home Décor
Moroccan lamps are a good way to give your indoor and outdoor design a perfect exotic touch. These unique lamps give every room a particular tone and atmosphere. They may also add a sense of style to places in the home where stairs, libraries, floor corners and entrances are often ignored. These are even exported all around the world by the Moroccan T-Light lantern exporter.
A great lighting scene can be created by hanging several lanterns in or around trees or large central objects. This type of decoration can be used in different thematic activities such as weddings and parties and in theme restaurants.
Final Words
You will find Moroccan lamps, Moroccan tables and a variety of Moroccan accessories if you want to decorate your home with rich Moroccan cultural elements.
By diffusing the light through coloured glasses and perforated frames, Moroccan lamps produce a lovely enchanting effect. This quiet light makes it an ideal option for relaxing areas like a yoga studio or Japanese garden.
Moroccan lights have been a new favourite Home Décor light piece across the globe with all its beautiful lighting and traditions.